Northwestern Falls to Bye Week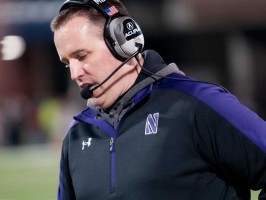 EVANSTON — On Saturday, October 31, the Northwestern Wildcats faced the bye week, an opponent many fans had called "the hardest test of the season." In a back and forth game that came down to the wire, Northwestern could not overcome the daunting opponent and lost to the bye week.
Coming off a victory against the Nebraska Cornhuskers, the Wildcats appeared confident they could handle the bye, with running back Justin Jackson telling reporters, "It's going to be great to take a week off, relax, and not have to worry about any opponent this week." This lack of preparation resulted in a much closer than expected contest that did no go well for the home team. The Cats were able to keep the game close into the fourth quarter, but subpar offensive play-calling, receiver drops, and overall confusion about why they were playing against the bye week led to defeat, leaving the team 6-3 on the season.
After the game, a distraught Coach Fitzgerald took the podium in an attempt to explain the loss. "I just don't understand," said Fitz, "It was the bye week. That's not even a team. How did we lose?"
Coach Fitz wasn't the only confused member of the team. When reached for comment, quarterback Clayton Thorson exclaimed, "Wait what? We had a game this week? Wasn't this the bye week?" Thorson's comments echoed the general post-game message from the team that the Cats had failed in their preparation during the week.
Next up for the Cats are the Penn State Nittany Lions, who come to Ryan field on Saturday, November 7. Northwestern hopes to use that matchup to make up for this week's unsuccessful effort. "Yeah, exactly. We play Penn State. Not the bye week. That wouldn't even make any sense," added a bitter Thorson. "The bye week isn't even a team. Who gave you locker room access anyway? Are you even a reporter?" Some players allegedly need more time to move on from the bye week loss than others.