Newt Gingrich Comes, Eats Hot Cookie Bar, Leaves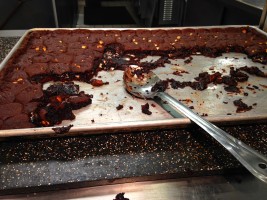 EVANSTON – Allison dining hall experienced its own celebrity moment when Newt Gingrich, the former Speaker of the House, was spotted there on Monday night. Gingrich didn't say much, but he was seen taking a sizable scoop of soupy cookie dough from the Hot Cookie Bar, a classic favorite at Northwestern dining halls. "It was so surreal, he just walked in like he knew exactly what he wanted and went straight for the Hot Cookie Bar," said Mark Bucso, WCAS '19, who was seen eating at Allison when Gingrich was allegedly consuming the popular Northwestern dessert item.
Following dinner, Busco supposedly testified to seeing Gingrich eat the sugar-infused without any utensils. "He just was gobbling it straight from the tray with his own two hands," reported Busco.
Reports indicate that Gingrich's speech Monday night was delayed by ten minutes. Sources are saying this was due to the time it took to wash Gincgrich's face clean of the hot cookie bar remnants.