Desperate Theater Major Prepares Big Number for Tech Expo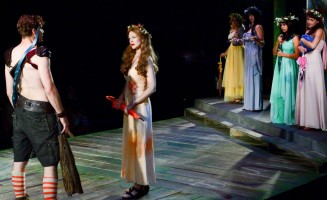 EVANSTON – Optimistic about her chances of impressing the abundance of theater and arts leaders in the audience with her impeccable technique and sense of space, theater senior Susan Eubanks, SoC '16, prepared a big one-woman show dubbed "Boundaries of the Fourth Wall: The Limits of Stanislavski" for Thursday night's Tech Expo.
"Steppenwolf, Lookingglass, and a bunch of other places did not really get on the same wave with me during my audition pieces, so I decided to try other avenues," stated Eubanks on her motivation for appearing at the Thursday, Jan 28 event that featured upwards of 70 employers. "I really hope they payed attention to the finer details of my stage movement," she added.
At press time, none of the attending financial, consulting, and technological companies slated to be present at the event responded to the Flipside's request for a statement regarding their opinion of Eubank's performance.
"I really feel I can get a gig out of this one," Eubanks concluded.