Northwestern Grad Receives Promotion at Denver-Based Firm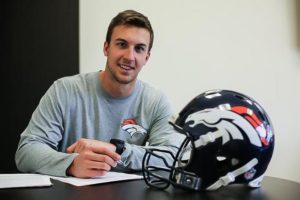 Several recent reports indicate that Northwestern graduate Trevor Siemian, SoC '15, has received a promotion from his Denver-based employer. Sources also reported that Siemian received the promotion over co-workers Mark Sanchez and Paxton Lynch, graduates of USC and Memphis, respectively.
"I'm impressed. I think he's very calm," said Siemian's supervisor Gary Kubiak, referring to the NU alum. Kubiak reportedly made his decision to promote Siemian after observing Siemian's ability to lead his co-workers through the high-stress tasks that have made the Denver-based company one of the most competitive in recent years.
"I can tell by the way he handles the team… he's got control of what's going on," Kubiak said.
Siemian expressed a positive outlook for his new position but deferred to his boss on management decisions. "I feel confident. Ultimately it's up to Kubiak… I'll just try to be the best teammate I can be," Siemian said.
Overall, Siemian's promotion means he will follow in the footsteps of many previous Northwestern graduates who also work long, intense hours in ultra-competitive, high-turnover professions.
The promotion, however, does not include an immediate pay increase, so Siemian's $525,000 annual salary will still lag behind many other NU alums, especially those who now work in business, finance, and consulting.