Class of '88 Alums Hook Up In Hinman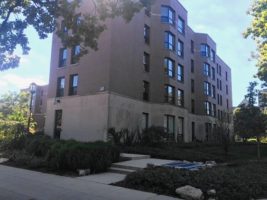 Homecoming weekend brought back a blast from the past for two Class of '88 alums, who hooked up in 1835 Hinman this weekend. Gary Schall and Brenda Trudeau hadn't seen each other since college, and after a few drinks they went back to their old dorm for a quick romp.
"I can't believe we did that," said Brenda Trudeau, WCAS 88. "But I just had to have Gary, and Hinman was the best place I could think of."
Trudeau has given birth to three kids and gained nearly forty pounds since graduating Northwestern, but Gary Schall, MEAS 88, was completely unfazed.
"Brenda and I used to bang all the time in Hinman," Schall admitted. "After college we just lost touch, but you never forget an ass like that, eh? I figure there's only one place in the world that feels like home enough to bone Brenda."
The Northwestern Alumni Association declined to comment on the affair, but Hinman CSO Mike Hanson says this isn't unusual for Homecoming weekend.
"Look, you just gotta expect it," Hanson admitted. "When you get a bunch of 50-year-olds together, they're gonna want to get it on. And what better place than an old, nostalgic, shitty dorm building to get you in the mood?"