Northwestern Secondary to Dress Up as Good Secondary for Halloween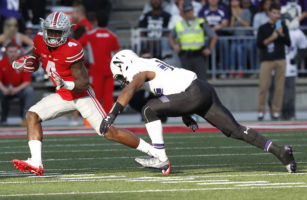 In the midst of a season with huge pre-season expectations, the Sky Team has dropped coverage after coverage. As what some are calling a cruel self-depricating move, the Northwestern Football Secondary has revealed their plans to dress up as an actually good secondary for Halloween.
"We're getting pretty tired of being a middling secondary that's always associated with Maryland and Rutgers in the Big Ten," said Junior cornerback Keith Watkins II. "I mean Rutgers sucks."
Junior Safety Kyle Queiro echoed Watkins's sentiment, saying, "It sucks when you're the unit holding the team back. Halloween is the one day of the year when anybody can be anything – dreams can come true. So we're going to be dressing up as a secondary that can cover receivers when they run in a straight line and sometimes turn."
The unit was spotted at the local Party City in Skokie on Monday night shopping for costumes.
In other news, Senior kicker Jack Mitchell was overheard talking about his plans to rock a really cool and totally not cliché Harambe costume.