Morty Down to Three Juice Boxes a Day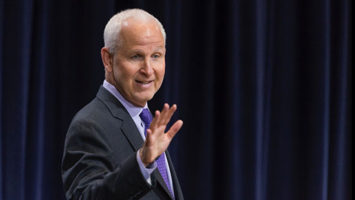 Sources within President Morton Schapiro's residential mansion have confirmed that a significant milestone was reached yesterday when Schapiro cut down his juice box consumption to only three a day.
Indentured servant/house staff member Michael Hunt, WCAS '99, informed reporters that President Shapiro has struggled with juice box addiction for several years now. "It all began when they gave him this huge, empty house. I remember knocking on his door to tell him dinner was ready, and he was passed out on his bed, bendy straw stuck in his arm. I waded through a two-inch thick layer of Hi-C, Capri Sun, Mott's, Tropicana, Kool-Aid, Minute Maid, and Juicy Juice to resuscitate him," Hunt said.
When asked about the sudden change, Hunt replied, "behind those dead, acidic eyes, Morty said, 'this is for the children.'" Whatever the real reason, many sources have speculated that this development will surely be good for Northwestern morale.
Hunt also made sure to mention that Morty's favorite juice box flavor is blue.