NUPD Recorded Beating Protesters with Sacks of Pepsi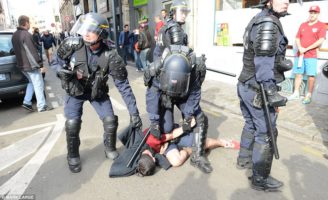 Earlier today recordings surfaced of NUPD officers beating protesters with sacks of Pepsi. "This was just absurd," stated local resident Bill Dink, who joined other protesters demonstrating against police brutality. "When I saw those protesters being beaten up by the NUPD with brown sacks filled with cans of Pepsi, all I could do was wonder how the delicious and refreshing taste of Pepsi could be used for such evil."
Local sources have reported that during the protest, the protesters sought to ease tensions with the NUPD by offering them hundreds of cans of Pepsi, apparently inspired by a recent Pepsi ad. "When I saw how that ad helped end injustice across the world, I thought that maybe I could replicate its success with our local police force," responded protest organizer Josh Carrie, who has been staying at the local hospital after getting hit by multiple cans of Pepsi in the face, torso, and lower body area.
The NUPD has been under fire following the incident, as many have been shocked over how they could ruin such good Pepsi. But when asked about his force's actions, NUPD Rep. Jerry Johnson was unapologetic.
"What the hell should we have done; they were mocking us right in our faces and then they gave us all of these cans of Pepsi, like that would solve everything," Johnson said. "Frankly, I only wish that we could find better uses for it. We still have over 1000 cans left over in the precinct that we don't know what to do with."
Recently, the NUPD has engineered a way to convert their pepper sprayers into Pepsi sprayers, patrolling fraternity parties with them in hand in case things get too rowdy.