Puddle on Garrett and Sheridan Celebrates First Birthday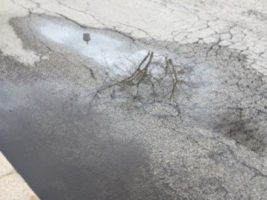 A large crowd of Northwestern students gathered on the corner of Sheridan Road and Garrett Place on Wednesday afternoon to celebrate the one-year anniversary of a massive puddle that formed on the street. Party-goers sang "Happy Birthday," told stories about the puddle, and even ate birthday cake during the splendid celebration.
Bobby Orvin, SESP '18, became the de facto party planner when he created a Facebook event as a practical joke the week before.
"My friends and I were on our way to go eat lunch in Plex when one of them stepped in the large puddle. I made a quick remark that the same puddle seemed to have been there for ages, and we all agreed on that. So, I thought it would be funny to take it one step further and make a Facebook event about my observation, sending it to a couple of my closest friends. However, it spread like crazy and over 500 people responded that they would attend the party," Orvin said.
The next week, while walking down Sheridan Road to one of his lectures, Orvin noticed a group of thirty or so students huddled around the puddle yelling. After further investigation, he found out these students were actually celebrating the made-up birthday.
"I had never seen anything like it; at first I thought it was a practical joke. Someone brought a cookie cake with icing on it spelling out 'Happy 1st Birthday,' while another kid was reminiscing about how he stepped in the puddle once. I was a little creeped out," he said.
At the end of the "party" the students sang happy birthday, led by a hesitant and somewhat distraught Orvin. Northwestern administrators have declined to speak about the peculiar situation, though, one partygoer claimed they even saw a disguised Morty Schapiro place a rubber ducky in the giant puddle as a present of some sort.