Creative Writing Program Debuts New "Pensively Skipping Stones" Course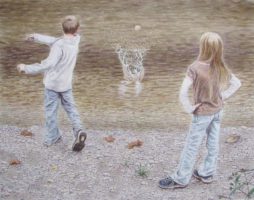 Sources confirm that in accordance with increasing standards across the nation, Northwestern's extremely competitive Creative Writing program has debuted a new course this quarter: Creative Writing 345 – Pensively Skipping Stones.
"The Creative Writing program has always had a clear goal of pondering the unknown, deep abyss we call humanity," says program director Earl Darkly. "This is simply the next step toward preparing our students for the meaninglessness that will ultimately be found in a search for purpose."
While Pensively Skipping Stones is the most recent addition to the program's course offerings, it is hardly the first. Other new additions include 377 – Fireplace Mood Music as well as the wildly popular sequences 250-1 – Sundown: A Guide to Nihilism and 250-2 – Sunrise: There is Hope Once More.
Creative Writing major Catie Kavanaugh, who is currently enrolled in Pensively Skipping Stones, tells Flipside, "I really enjoy the course. We start each day by listening to Coldplay's 'Fix You' and 'Yellow.' Then we shuffle to the Lakefill with our heads pointed downward. Finally we pick up the slimmest of stones, muse on the mutability of existence, and ultimately launch the minerals into the vast unknown they call Lake Michigan."
The course is held in CAPS.