Elder Dining Hall to Add PlayPlace to Boost Traffic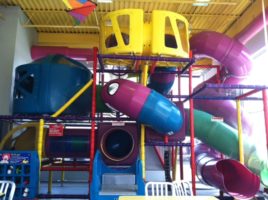 In what Wall Street analysts are praising as "a genius business move that will dominate the dining hall industry", Northwestern Dining Services has announced that Elder's dining hall will have a PlayPlace installed within the next week.
"Something had to change," said dining hall staff member, Jordon Ramsay, "With our freshman preferring to pay for an Uber to take them to eat off campus rather than using their unlimited swipes, we needed a way to rebuild our customer base. This PlayPlace represents a new paradigm in dining hall culture by allowing students to recall fond memories of playing in their McDonald's PlayPlaces back home. McDonald's is such a staple of American culture that by emulating it, we're expecting our residents to opt for a more classic dining experience and come back home to us."
When asked about how they were planning on renovating the dining hall so quickly, Ramsay claimed that the whole process is going to be very simple. "Well since most of our tables are never used we're just going to get rid of those and fit the PlayPlace right into all the empty space. We're actually going to start franchising and license out Elder PlayPlaces at the South campus dining halls in the next year. We're looking to spread our brand throughout the entire campus and dominate dining services at Northwestern."
Students were generally very receptive of the new addition. WCAS freshman and Elder resident, Ananya Gustafsson was very excited. "One of the best parts of going to McDonald's is the PlayPlace. I'm happy to see that Elder has taken the right step forward by realizing that dining is so much more than consuming mediocre food – it's supposed to be a mediocre experience."
McCormick freshman, Vladmir Jackson, on the other hand, was completely taken aback by the information that Elder had a dining hall. "Now that you mention it though," he said. "I do remember visiting CAPS after the first day. I must have tried to suppress memories of eating there."
Northwestern administration has also expressed approval of the new addition. "Morty's already booked the PlayPlace for an entire day," Ramsay shared. "We're glad that everyone's happy," he said, dodging inquiries on what exactly Morty had planned for the day.