Diversity TND Teaches White Jewish Freshmen from the Chicago Area They're Not Alone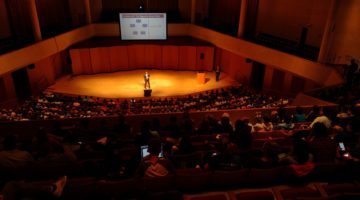 By Cooper Barth
Piling into Pick-Staiger, 2000 newly-recruited freshmen awaited the start of their final True Northwestern Dialogue eagerly this past Tuesday before a pair of administration officials in charge of inclusion were brought in to speak on the diversity and unity of the class of 2021. The TND, which was added this past year, seems not only to have made the students from more than 50 countries and the one guy from Wyoming feel part of the NU community, but also helped build camaraderie for the white Jewish freshmen from Chicagoland who were worried about not finding people like them.
The TND was one of four in a series of mandatory Wildcat Welcome events, along with the complementary seminars "'Can I fuck you?'," "How to drink away your GPA," and "You're not depressed; you're just sad." The diversity-themed seminar aimed to celebrate the massive range of racial, geographical, and religious backgrounds present in the class of 2021, and by extension, Northwestern as a whole.
"We're really excited about this class," reports President Schapiro. "We have students from more Chicago suburbs than ever before; as a matter of fact, we only took 40 kids from ETHS this year!"
But the presentation was not only about celebrating diversity, but also embracing community and unity. The format of the presentation, in which traits about students' various backgrounds, such as hometowns, religions, were named, and then all students whom these applied to stood up so everyone could see their tears, allowed those who may have previously felt alone in the world to realize they're exactly the same as a lot of other people.
Aaron Abate, one of more than 200 white, cisgender, straight, Jewish, Chicago-area freshmen, spoke about how he felt standing up with all his peers: "Having been told how diverse Northwestern is, I was worried I wouldn't have anything in common to talk about with my peers. It's so comforting to know that when I walk down Sheridan, so many of the faces I pass share my hometown, religion, race, ethnic background, sexual preferences, and interests."