Kinky Couple Role-Plays Being in Love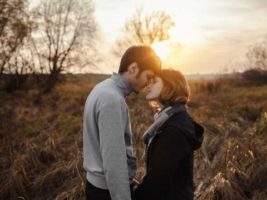 After four years of doing it in college, long-time couple Maggie Bollinger and Mitch Palmer decided to spice things up this week by pretending to like each other. "We wanted to wait 'til marriage," Bollinger said, "before we—and excuse me for being impolite—had, hehe, love for the first time." She cited personal reasons, insisting "It's my choice—I chose to be free from emotional regret, unplanned feelings, and sappily transmitted dopamines."
Asked why they ending up showing affection prior to their nuptials despite their initial plans, Palmer reportedly erected, saying "We were fooling around one day, just little things, complimenting each other's bodies, when Maggie's hand brushed mine and she accidentally said something about my personality—I immediately got a full-on blush and we mutually decided it was time." Sources say it was the first real conversation the couple has had since Summer of '16, when they came clean about their favorite positions.
Apparently, Bollinger only gave her consent because "she'd been hearing things—rumors, little whispers—that if she didn't put out soon, Palmer was going to break off their engagement to hook up constantly," according to secret Flipside informant Deep Throat. Asked about the anonymous tip, Bollinger reassured concerned friends and family, saying "Fucking has always been the foundation of our relationship, and no amount of love we have can ever change that." Still, sources close to the situation have voiced their concern that, like men do, Palmer will only see Bollinger as an instrument for sentimental pleasure now that she has given him her heart.
Unfortunately, Palmer has inadvertently confirmed some of these suspicions. "Don't get me wrong, sex where she takes me from behind on the corner washing machine in the dorm laundry room, like that first time, will forever be what attracts me to her," he told Flipside reporters, "but we'd been drifting, I needed more—the meat could've used some salt." Palmer went on to overshare that since they've started role-playing being in love, his eyes have stopped clouding over during day-to-day interactions with Bollinger. "I could get used to this full-time," he said.
Although Palmer indeed seems to be taken with their tenderness kink, Bollinger remains unwavering. "I will treat myself and others with value and respect," she said at time of press, "I'm glad I know now that I can withhold true attachment when I'm not getting the kind of love I want, if you know what I mean."