Student Group Receives Eerie Messages From Ghost of Former President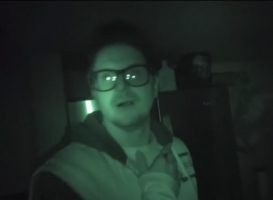 Late last night, several members of a local student group reported receiving a series of haunting text messages from the ghost of a former president they believed to be gone forever.
Sally Rowe, SoC '20, received the first messages sometime before 6pm. "I was minding my own business when my phone lit up. It was a text from Gordon," she recounted. Rowe said she was "shook" at the sudden signal from the Great Beyond. "He's…he's been gone for months…I don't know how this is even possible."
Emma Cook, WCAS '19, had a similar experience later in the evening. "He questioned me about my life," she said, visibly upset. "He seemed content with wherever his spirit is now, so I don't know why he's tormenting us." Cook said the messages started friendly but the spirit grew agitated when she didn't immediately respond. No physical harm came to her by supernatural means.
There have been stories in the past of students being haunted by former leaders no longer with us. The occurrences often happen in mid- to late-October, with reborn spirits flooding back to campus to attempt connection with those they left behind. Students have generally described the hauntings as friendly, though contact with the unknown leaves them all with anxiety and dread.
"He questioned me about club events that happened weeks ago," organization president Lewis Danowitz, BSM '19, said. "I was terrified – how did he even know what I've been doing? Has he been watching me? I'm so worried he thinks I'm not doing a good enough job."
While the encounter has shaken students, they seemed to all appreciate the chance to reconnect with a lost soul. "I think he misses us," Rowe mentioned. "I just hope someday he can move on and be free."
Club treasurer Alan Mejia, WCAS '19, has since been spotted shouting to no one in particular, "Why doesn't he want to talk to ME?"