Forgotten North Face Coming to Terms with New Home in Tech Express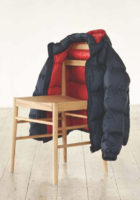 By Will Belcher
With the advent of Autumn comes the season of not knowing what the temperature is going to be an hour from now. One North Face jacket—a tragic victim of this season—has been spotted, forgotten, on the back of a chair in Tech Express. The jacket has now been there for over four hours, abandoned by former owner Jessica Myers, McCormick '20, between her morning and afternoon classes.
When asked about its recent abandonment, the jacket responded that it didn't mind being left in Tech Express: "I'd never felt particularly attached to Jessica, and I have to say I'm somewhat happy with how events have unfolded. She had so many other jackets that I never felt like I truly got a chance to shine. I feel like I have a brand-new chance at life."
Though miffed that it might get sent to the lost and found, the jacket is keeping an optimistic outlook on the incident. It noted that it will likely use its newfound freedom to go backpacking around Europe on the back of some art major studying abroad, and try to get more in touch with its inner self before inevitably being left in some French café.