Morty Tops Forbes 400 List of People With Most Catcash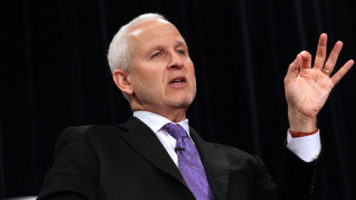 In a new list published by Forbes magazine, Morty has officially been declared the wealthiest person in the world in Catcash net worth.
News of the accomplishment received mixed responses. Almost immediately, Amazon founder Jeff Bezos tweeted, "Who's Morty, and what the hell is Catcash?" Others in the Northwestern community, however, were very happy with the news. "This is a win-win for all of us," explained Susan Quackman, a member of the board of trustees. "Instead of spending millions of dollars every year on Morty, we pay him in a currency that can only be used to purchase croissants at Norris. It's much easier than giving him real money, and the best part is that he thinks he's rich!"
Senior Bill Perkins was very impressed with the president. "Aw man! I definitely thought I had the most Catcash. I've been saving up since I was a freshman; everyday, I've resisted the urge to splurge on some Talenti Caramel Swirl™ ice cream from Plex West, but I am still only number two on the list."
Sources report that Morty, already flaunting his Catcash supply, tried to order multiple quesadillas at Frontera Fresco. Much to his chagrin, however, he quickly realized that he had forgotten his Wildcard and that he couldn't afford to pay with real money.