Dining Halls Excited to Serve Same Old Shit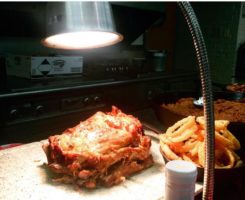 Administration and staff across Northwestern dining halls look forward to serving questionably-edible food for the remainder of the quarter as Family Weekend 2017 comes to a close.
"We're very excited for a return to our mediocre, questionably-edible food that typically graces our menus," remarked Sodexo Residential General Manager Mike Mahaffey.
This year's Family Weekend saw dining halls across campus showcase impressive spreads of gourmet meals – from fresh-boiled lobsters and a raw seafood bar in Sargent, to pop-up Hibachi tables in Plex East.
"The goal was to really save face since parents were most likely to be in a dining hall this weekend compared to any other time of year," Mahaffey said. "When Stephen Colbert walks into one of our dining halls, he needs the assurance that every single one of the $66,000 he pays to his son's tuition is put to good use."
Part of the uncharacteristic jump in quality was attributed to Sodexo contracting chefs from high-quality Evanston establishments, including Oceanique, Pete Miller's, and Lao Sze Chuan.
"Lord knows we wouldn't have been able to do this ourselves," remarked Plex Food Service Manager Dennis Georgopoulos.
It is alleged that Sodexo exhausted their FY2018 budget on Family Weekend alone, though Mahaffey vehemently denies the claims, noting that meals in the upcoming weeks will include fresh grass from their "sustainable sidewalk garden" and kitchen rodentia as part of their new "choose to reuse" program.