Student Back From Study Abroad Unaware Fall Quarter Was One Quarter He Could Have Smashed Crush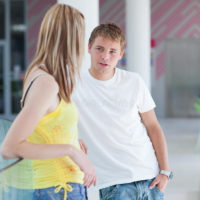 Arriving back on campus completely oblivious of his condition, area student Grant Schuster is reportedly unaware that fall quarter was the one and only quarter he could have smashed his crush, Claire Stanton.
"I really enjoyed my quarter abroad in London. I grew as a person and learned a lot too," Schuster said, not knowing that on October 20, 2017, he could have made hot love to Stanton in a fleeting moment of mutual passion that can never occur again.
"I am glad to be back at Northwestern, though, so I can see all my friends again, especially my friend Claire from down the hall," Stanton added, unwittingly underscoring the point that the love of his life will indeed only ever be just a friend after his poorly-timed fall quarter absence.
"I like chilling with Grant. He's a nice guy," Stanton said, something she would not have said had she developed feelings for Schuster in the fall, let them fester over winter break, and finally admitted her love for him this week. Of course, sources confirmed, this scenario will forever remain hypothetical since Schuster had to experience life in another country for several months.
At press time, Schuster was also unaware that fall quarter was his sole opportunity to befriend an RTVF student who would go on to worldwide media fame, potentially scoring him hundreds of invites to celebrity after-parties that will never be.