Sorority Freshman Looking Forward to Ditching Fall Quarter Friends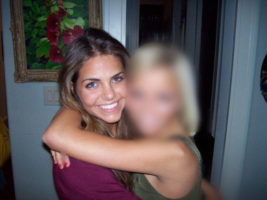 On Wednesday, January 17th, Janie Bramson, SOC '21, accepted a bid from Quad Delt sorority. Having found her "new sisters" and "best friends forever," she is looking forward to ditching her fall quarter friends and cutting all ties with them.
Throughout fall quarter Bramson had reportedly never considered rushing, but decided to sign up when she was informed that everyone else was doing it. According to her, "I really wasn't interested in Greek life because it's inherently problematic and built on a history of racism and misogyny. But also like everyone signed up and I totally didn't want to feel like a loser. Obviously racism and misogyny suck, but you know what doesn't suck? Crush parties."
Bramson reportedly had her doubts throughout the recruitment process as her Northwestern peers judged her for her looks, style, and ability to smile through uncomfortable small talk, but pushed through her worries to find her "home for the next four years." Upon receiving a bid from Quad Delt, Bramson exclaimed, "Yes! I knew it! Goodbye fall friends, hello new sisters!" Bramson has reportedly not seen a single person she was friends with fall quarter since.
When reached for comment, Abby Higgins, Bramson's roommate who did not rush, seemed confused by the situation. "Janie and I were best friends during the fall. Almost inseparable," said Higgins. "It really came out of nowhere when she turned to me, said 'Bye bitch' and walked out of our room. I haven't seen her since. Where does she even sleep?"
Now a member of a sorority, Bramson has "never been happier" and "doesn't know what she did before srat life," according to sources. Her social media presence has skyrocketed, as she has gained over one hundred new Facebook friends, dozens of new followers on Instagram, and seven invitations to connect on LinkedIn. She is reportedly excited to post her newest Instagram picture, which will feature one of her new sisters kissing her cheek while holding a Natural Light beer in a dimly lit basement. The caption is set to be "#MixerSZN."