Northwestern Career Advancement Feels Just As Shitty About Your Job Prospects As You Do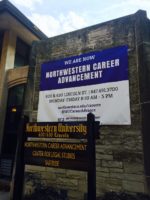 Yesterday, in the wake of an overwhelming number of appointments scheduled on CareerCat, Northwestern Career Advancement (NCA) issued a statement, canceling all appointments. They elaborated, saying there was no point as they feel just as shitty about your job prospects as you do.
Flipside reporters spoke to an anonymous source on the inside of this scandal. "I have looked at more resumes than you will ever know and they were each just as crappy as the rest," said the source. "No one cares that you sent weekly emails for this random club that no one has ever heard of. Literally newborn babies could hold your position."
The rest of the interview devolved into demented ranting about action words. "We provide a list of eye-catching words and email is not on it!" said the source as they furiously printed 80 copies of the aforementioned list and stapled them to the walls. "I emailed evites for my dog's birthday party after six glasses of wine. It's not an exceptional skill!"
Students were understandably upset by the cancellations and the subsequent announcement. Daisy Jane, SoC '20, relayed her dismay to the Flipside while clutching a stack of unrevised resumes and cover letters. "I know I don't have a ton of experience, like I'm only a sophomore, right? But they're supposed to help me make putting together lackluster profit shares look like a hirable skill," said Jane. "How am I going to a get a job now?"
Joey Lane, WCAS '19, had a different opinion on the matter. "It's about time someone finally said it," said Lane. "My roommate put interior design experience on his resume after he hung a poster on the wall. Some people are just beyond resume revisions."
The NCA shut down has persisted. Their building has become dark and desolate. On the bright side, they are still filling up your inbox with emails you will never read about internships you don't have a snowball's chance in hell of landing.