NU Campus Tours to Eliminate Backwards Talking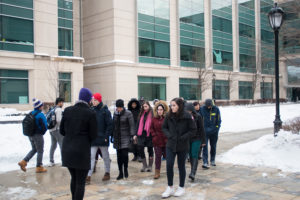 Bringing an iconic feature of Northwestern campus tours to an end, assistant director of undergraduate admissions Justin Clarke announced today that, among other changes, tours to prospective students will no longer involve backwards talking.
"In our office, we always strive to make our tours inclusive, and today, that means including all those prospective students and their families that only understand forward-spoken English," Clarke said.
After a recent tour, one prospective student expressed surprise at the planned change. "I don't really get what the controversy is about. I found my tour guide to be very informative. For instance, I learned all about Yad Ollid, which I think is a Hillel event," Alyssa Weaver said.
Despite the fame this tradition has gained over the years, some tour guides agreed that it was time for backward talking to end.
"Egnahc siht gnikam er'yeht yhw dnatsrednu I os, ruot eht fo ecnatsbus eht morf yawa ekat semitemos did ti tub, sdrow ym revo gnippirt tuohtiw sdrawkcab klat ot woh gninrael fo duorp eb syawla ll'I," tour guide Jack Mettenberg said.
As part of the same announcement, Clarke also said that campus tours will no longer end before they begin.