Study: Medill Undergraduates Have Lowest Soul-To-Body Ratio on Campus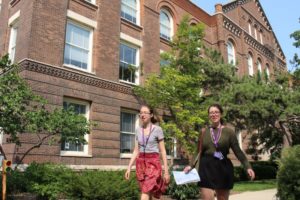 In a chilling report commissioned by Morty Schapiro and the Office of the President, Medill journalism and communications students were uncovered this week to have the lowest soul-to-body ratio on Northwestern's campus.
The metric, developed by the Feinberg School of Medicine to address concerns of undergraduate fulfillment, confirmed previously-held beliefs about the university's most enigmatic school.
"We find the report to be indicative of Medill's core values," said Dean Brad Hamm. "Our program strives to instill the values of public relations, media expertise, and heartless cynicism in all undergraduate students."
Medill sophomore Sophie Little said of the study, "I've always known throughout my whole life that I was less able-souled than most other people my age. Coming to Medill and finding myself already in-tune to the pain of deadlines and social angst, I truly feel like I belong."
Feinberg's development of the innovative ratio has come under fire by some critics, who have stated that the emptiness evaluated by the current methods is not inclusive enough.
Daily ounces of Norbucks coffee, total number of inactive social media accounts, and inability to love are some of the many measures currently utilized by the metric. Detractors have argued that other aspects also matter, such as the number of Greek life bids a student earns and the amount of time they spend recruiting for Dance Marathon.
"What's more soulless than that?" said McCormick junior Kyle Hennessey in a Daily Northwestern op-ed.