Area White Guy: "I Really Liked Martin Freeman in Black Panther"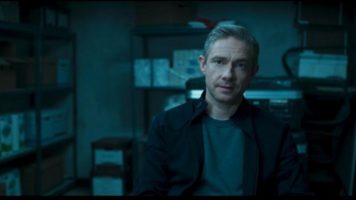 Just seconds after a showing of Marvel's "Black Panther" ended last Tuesday night, area white guy Jeremy Peterson stood up from his seat and shouted to a friend, "I really liked that Martin Freeman guy. He definitely was the breakout performance. They should have given him a bigger role in the movie."
Immediately after stating the observations, Peterson fled Century 12 Evanston theater. Presumably, Peterson found that the peer pressure of almost every moviegoer giving him a dirty look was too much to handle.
After several unsuccessful attempts reaching out to witnesses close to the situation, Flipside reporters were able to get in contact with one of Peterson's friends who joined him at the theater Tuesday. However, before agreeing to tell his experience, he asked to have his name redacted out of sheer embarrassment.
"After Jeremy said the [Martin Freeman comment], I laughed it off thinking it was a pretty funny joke," the source said. "But he became confused and insisted that his remarks were genuine. That was when everyone started staring at us. I think I even saw one mom covering her son's ears."
Before elaborating further, the anonymous source ended the interview due to the humiliation of having to relive the moment.
Another source who sat farther away from the incident claimed Peterson was being "super fucking annoying" during the movie.  Jordan Thomas, a local Evanston resident, recalled some of Peterson's actions throughout the film.
"Never trust someone who buys candy for a movie," Thomas said. "I was a couple rows behind [Peterson], but when I saw him walk in with his king size Crunch bar I knew he was going to be fidgeting with the wrapper the entire movie. He didn't even have the decency to buy the unwrapped mini version of it. What an asshole."
Even though it has been more than 48 hours since the incident, Peterson has refused to give a statement to the media. However, when a Flipside reporter direct messaged him on Twitter asking if he liked Michael B. Jordan's performance as the main antagonist, Peterson quickly responded "Andy Serkis was better."