Morty Finally Breaks Chastity Vows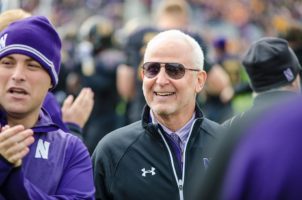 Following a visit to Garrett Evangelical Seminary, Northwestern University President Morton Schapiro announced that he was ending the vows of chastity he swore upon taking the presidency. Citing precedent set by every other university in the world, Schapiro announced the mandatory chastity vows to be outdated and irrelevant in today's hot and liberated college environment.
"I have been recently informed that unlike a Catholic priest, there is no need for the president of a university to take or follow any vows of chastity whatsoever," stated Morty, "it turns out my avoidance of impure things and lustful actions does not affect my ability to run this institution in any way. Let me tell you guys, tonight is going to be wild."
"I've been telling him this for years," said Father Kevin Feeney, Chaplain and Director of the Sheil Catholic Center. "Honestly, he's been trying to break them since 2002. We'll see how it goes now."
At time of press Morty is allegedly planning a celebration to commemorate the ending of this tradition, but has yet to receive any RSVP.