Bandit The Raccoon To Receive Honorary Degree At Commencement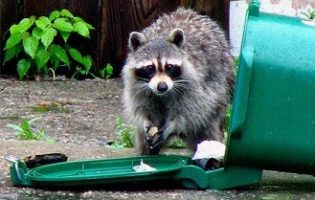 Northwestern's most notorious raccoon is set to receive an honorary degree in Environmental Sciences at the class of 2018's commencement this June to reflect his conservation work throughout Evanston. Each night, Bandit "the College Prowler" skulked around alleys, behind dorms, and in bushes, working ceaselessly to eliminate manmade waste by consuming it.
"We are honored to present Bandit 'the Outdoor Roomba' with this degree," stated university President Morton Shapiro, "this little trash thief is singlehandedly reducing each of our carbon footprints and we feel it's time to recognize his achievements."
Others have vocalized skepticism regarding Bandit "the Invisible Shredder's" work. "It's foolish to honor one raccoon for work that was clearly a group effort," argued Lacey Bernbaum, WCAS '21. "Once again, the university is engaging in reductionist and exclusionary political pandering to appear elite instead of acknowledging the effect of a large number of raccoons each eating a little bit of garbage."
Those close to Bandit "the Mobile Landfill" expect him to graciously accept the honorary degree before eating it in an act of either protest or hunger, hissing aggressively at Renée Fleming, and fleeing to his den underneath a Foster Street dumpster.