Morty Moves to Nicaragua Under Assumption that New ASG President Has Replaced Him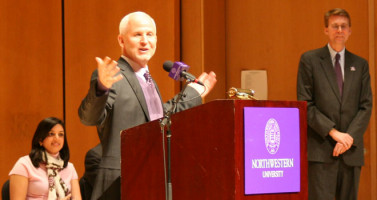 Apparently not understanding the difference between "university president" and "student-body president," Morty Schapiro has permanently moved to Nicaragua under the assumption that the new Associated Student Government president has replaced him.
Multiple sources confirmed that immediately after the new ASG president and vice president were announced, the confused Northwestern president was seen tearfully packing his bags and stepping into an airport-bound Uber X to begin his one-way journey to Central America.
Although Schapiro's emigration to Nicaragua was abrupt, some students noticed peculiar warnings signs in the months leading up to the ASG election.
"One day, he just showed up at my Spanish class, sat down right next to me, and started copying down my notes without a word of explanation," said Toby Prine, WCAS '21. "When the professor asked what he was doing, he said he needed to learn Spanish 'just in case.'"
Concerned university officials and administrators have tried calling Schapiro to explain that he is still the Northwestern president, but nobody has been able to contact him. Many are beginning to speculate that Schapiro, who was paid a $1.25 million salary in 2016, turned off his data roaming after leaving the U.S. to avoid a higher Verizon bill.
Since Schapiro's sudden departure, many questions have arisen about the future of Northwestern's leadership. "It's obvious that I should be the new university president," said Weinberg dean Adrian Randolph. "I could spend all day explaining why I'm qualified, but I think my British accent speaks for itself."
At press time, notable alum Stephen Colbert was busy pleading with the board of trustees for the position, explaining that he needs another career option in case CBS does to him what NBC did to Conan in 2010.