Willie the Wildcat Has Pretty Good Idea Which Freshman to Invite to Furry Rave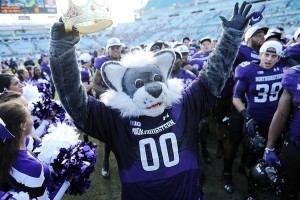 Following this year's homecoming football game, Willie the Wildcat announced on his finsta that he has found a freshman to accompany him to his annual Furry Rave.
Willie began his search in June after posting an ad in the Database of Thicc Furries group, or DTF, on Facebook. "Attractiveness not necessary; I'm just looking for some fun," wrote Willie on the ad, which garnered a total of one response (from a porn bot.)
At the commencement of this year's football season, the football team created a committee to aid in Willie's search. Candidates were selected based on a variety of factors: willingness to wear UGGs as a fashion statement, sympathy for the Northwestern skunk population, and ability to purr. Of the fourteen candidates selected, two responded to Willie's Facebook DM asking to "meet up."
After a competitive interview process, Martin Jones, WCAS '22, was selected after listing his kinks as growling, petting, and whipping.
The Northwestern football team is looking into redistributing a portion of its budget to fund the creation of Jones' fursuit.