Morty Embroiled in Scandal After Cheating During Game of Guess Who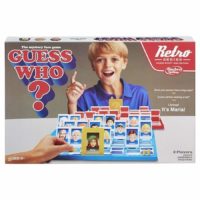 In a year plagued by administrative scandals at every governmental, administrative, and disciplinary level, Northwestern University President Morton Schapiro committed the most reprehensible breech of conduct the world and the Northwestern Community have ever seen. This past Saturday, unnamed sources reported that Mortimer Schapiro, commonly known as "Morty," went past the bounds of decency and cheated during the third turn of a competitive "Guess Who" game during a playdate this Saturday.
"He has no respect for the sacred laws of this game," stated fellow economist and Guess Who opponent Rodger B. Meyerson. "He told me to watch out because there was an alligator behind me, so of course, I turned around. And while I was looking, he sneaked a peak at my card! That little so-and-so!"
A rule breach in a game of Guess Who could result in Moriarty Schapiro going on a long time out, or even getting grounded for a few days. Experts hope that a grounding would not cause Mort to throw a tantrum, as the last time he threw a tantum, Northwestern had to placate him with a shiny new $250 million toy.
Mortician Schapiro could not be reached for comment, as at press time he was attempting to use his finger to keep water from falling out of his sippy cup straw.