Only Girl in Your Compsci Class is Totally Into You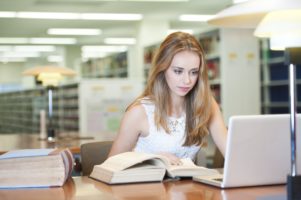 After weeks of observation and interviews, the Flipside's investigative journalists have verified that McCormick sophomore, Hannah Rivermoore, is indeed the only girl in EECS 215, which represents a 100% increase in the class's female population from last quarter.
Certain members of the class were overjoyed by this revelation. "I always saw this one guy who sits in front of me with long flowing locks. Beautiful hair, really. I just wasn't sure if he was a dude or not, until now. This simplifies things!" said McCormick junior, Adam Villanueva, as he liberally sprayed himself with a tasteless cologne.
"She looks almost directly at me exactly once a class! It's so hot, she's totally hitting on me," said clueless McCormick freshman, Alec Thatcher. "She's a solid 7 but beggars can't be choosers."
Weinberg sophomore Luca Richardson was markedly less thrilled. "This just complicates the 'hot or not' game I was planning to program for my final project. You know, like in The Social Network."
The Flipside reached out to Rivermoore for comment: "Not interested," she said, filing a restraining order against the Flipside's last and best investigative journalist. "I already have a girlfriend."