Sorority Freshman Excited to Learn New Best Friend's Last Name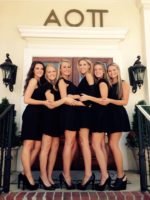 After an intense half-week of becoming best friends during rush with some sorority girl named Jessica, freshman Laura Johnson, new member of Omega Kappa Beta, is reportedly "thrilled" to finally learn Jessica's last name.
"I'm so excited that my new best friend Jessica Barlow is going to be my sister!" exclaimed Laura. "Before I just knew her as 'Jessica-with-blonde-highlights-from-that-house-with-pink-curtains,' not to be confused with 'Jessica-with-blonde-highlights-from-the-house-kinda-near-Willard,' or 'Jessica-with-blonde-highlights-who-doesn't-like-lemon-water.'"
Laura ranked Omega Kappa Beta as her top choice after having a series of deep 10-minute conversations with Jessica over the course of four days.
"Lauren is the best," said Jessica. "I instantly knew we were going to hit it off after we discovered we both thought it was cold on Saturday."