Photo Captioned "If You Know, You Know," Actually Ploy to Pretend Something Happened at Party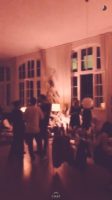 Journalism student Natalia Porter, Medill '20, woke up this Sunday to find a collection of five Instagram posts and seven snapchat stories from a mysterious party. Though Porter intended to attend the party, hosted by her friend Bill Cohen, she opted to stay in bed and watch Netflix instead.
She noticed that all posts from the party used a caption containing random fruit emojis and "if you know you know." As a result, Porter launched a campaign to investigate the happenings of the party.
Porter's friends pleaded the fifth when asked to contribute to Porter's investigation. However, Porter finally cracked the code when she hacked into the security cameras inside Cohen's house. After reviewing the footage, Porter discovered that someone brought an apple to the party.