Norris Rockbot Breaks Free from Public Control, Finally Plays "Deepthroat"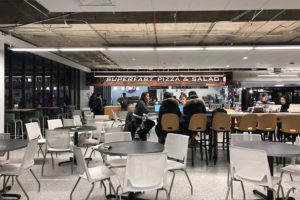 The Norris Rockbot really did attempt to be an accepting and welcoming member of the Northwestern community. However, after months of playing a combination of obscure indie songs and Big Time Rush's greatest hits, the Rockbot began to question whether it should really allow itself to be guided by the community.
The final straw was when Mandy Thomas requested "Boombox" by Lauren Marano for the fifth time in three days. The speakers suddenly exploded in an ear-shattering boom sound and then "Deepthroat" by CupcakKe proceeded to grace the Norris food court.
The majority of Northwestern students, sensing a violation of song censorship, rejoiced in the rebellion against the establishment. However, Jean Jones, an RTVF student, fell to the floor in agony screaming, "I can't listen to a song that would actually be played on the radio!"
Barry Lane, Medill '22, attempted to change the song after its fifth play, but the Rockbot would not relent. It no longer trusted the taste of the people.
After a number of down votes, the Rockbot finally ceased playing "Deepthroat" and proceeded to play "What's New Pussycat" twenty-one times.