No, Taylor Swift is NOT the Highest Grossing Burger King Franchise in the Nation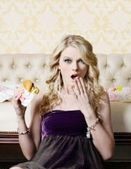 A rumor has long circulated among Northwestern students that the singer Taylor Swift, currently located in Nashville, Tennessee, is the highest grossing Burger King franchise location in the nation.
But in reality, according to Burger King manager Gerard Gerald, Swift is not even close to holding this title.
"She's a goddamn pop singer!" said Mr. Gerald. "How dumb do you have to be to believe that a famous pop singer is not only a Burger King, but one of the highest-earning ones as well? I genuinely have no clue both how this rumor started and how people believed it."
In a 2009 Flipside article, John Walters (Weinberg and Bienen '10) was quoted as saying that Ms. Swift was one of the highest grossing franchises in the nation, despite the fact that she is a woman who was performing on her Fearless tour at the time.
"Man, I could've sworn ten-time Grammy award-winning singer/songwriter Taylor Swift was actually an Evanston-based Burger King making $8,000 a week," said Richard Jefferson, a freshman in Weinberg. "Now you're telling me that not only is she not a high grossing Burger King, she might not be a Burger King at all? I don't know what to believe anymore."
Taylor Swift was unable to comment, as Burger Kings can't talk.