From The Archives: Dillo Day 1896 Ends In Disaster After Theatre Troupe Knocks Over Candles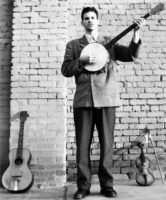 Journalism is about recording and reporting on current events. By looking back on articles from the past, we can learn so much about the lives of previous generations. Here is one such historic piece from the Flipside archives.
June 7th, 1896
Northwestern students at Dillo Day were expecting a day of lively performances from the Barnyard Boys, the sixteenth most popular theatre troupe in America. Instead, terror ensued when the troupe accidentally knocked over dozens of candles being used as the light source on stage.
Dillo Day 1896 started off well enough. After students were disappointed by last year's exclusively banjo/fiddle-focused performances, Northwestern President Mortimer Schaferman promised to bring more contemporary forms of entertainment this year.
Fortunately, he delivered on this promise, as students were treated to a riveting reading of The Scarlet Letter by local author Benjamin Williams, followed by a rousing performance of various folk songs sung by the John Smith Choir, the acclaimed choir comprised entirely of men named John Smith.
But the real draw to Dillo Day 1896 was undoubtedly the promise of watching the Barnyard Boys perform. Never had Northwestern students stood in the presence of such a prestigious group in the school's 45 years of history. It is not an overstatement to say that anticipation was at an all-time high.
However, the students' excitement would quickly turn to horror. During the performance of a highly amusing skit in which the members of the troupe pretended to be people with practical professions, one of the Barnyard Boys tripped and knocked over the elaborate array of candles set up to provide illumination at that late hour.
The flames quickly spread, and although some students courageously attempted to douse the conflagration, they were too inebriated to realize that their cups held liquor instead of water and only succeeded in making the fire even worse. Terrified students in the path of the inferno were forced to jump into Lake Michigan. The fire did not burn out until almost 4 AM, wasting valuable time that students could have been using to take sizable hits of cannabis.
In the wake of this unfortunate incident, President Schaferman advises students to look on the bright side. "Not a single student died, which is an improvement from the Donkey Riot of Dillo Day 1893," he pointed out.
To avoid future fire-related accidents, Schaferman is reportedly considering alternative performances for next year's Dillo Day, including a live demonstration of America's newest technological advancement, the gatling gun.