8th Generation Northwestern Legacy Student Just Spits on Application to Get In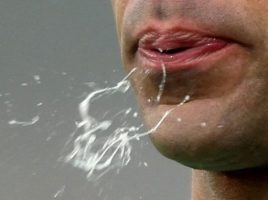 With early decision deadlines looming, Jacob Weinberg Schapiro Ryan Fieldhouse McWilliecat VII, an 8th generation legacy, simply spat on his Northwestern University application, causing him to be accepted immediately. Admissions officers were amazed, calling McWilliecat's application "original", "highly personal", and "phlegmy". "You really can't get more unique than Jacob's application," said Leah Gascoigne, head of admissions. "Here we were, holding a physical part of Jacob. We really got a good idea of who he was, and immediately admitted him; even if his application has caused a bout of mono going around".
The McWilliecat's are a family with a rich, storied history at Northwestern. Jacob Weinberg Schapiro Ryan Fieldhouse McWilliecat V, in 1962, supposedly was the first person to streak naked across the lake fill at its opening. McWilliecat VI was photographed giving Todd Adams a wedgy at Wildcat Welcome.
"You're damn right I did," McWilliecat VI explained to reporters. "Eight generations of McWilliecat's will have walked these hallowed halls. If that doesn't give us the right to take a shit in the middle of Deering Library, then I don't know what does."
When McWilliecat VII was asked about his excitement about attending NU next fall, he rolled his eyes and tripped a reporter. "We're very happy to have little McWilliecat VII among our ranks next year, and it has absolutely nothing to do with the fact that his family is a top donor and own five percent of Google" stated Gascoigne to concerned faculty.
At press time, Conanburg VII had gone around to each dining hall and sneezed on the salad bars.