Op-Ed: I Miss the DM Recruiter Who Would Whisper To Me In My Sleep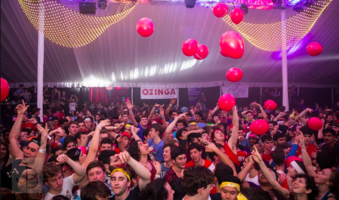 Many people find the Dance Marathon recruiters to be incessant and annoying. Famously known for their inability to take "no," "no thanks," and "no, fuck you" for an answer, DM recruiters will stop at nothing to get freshman to sign up for DM. After not participating in DM my freshman year, I assumed I would not sign up this year. Then, I met Ricardo.
The first time he appeared in my room in the middle of the night, I was shocked. I recognized him from the arch, where he regularly asked me if I had signed up for Dance Marathon. I also recognized him from Allison and Norris and the third floor Kresge women's bathroom. (I know what you may be thinking: what kind of pervert hangs out in Norris?) Anyway, I always told him that I would not participate in DM.
But there he was, Wednesday night at 2:37 am, in my room. He quietly told me to go back to sleep, then began whispering over and over "Sign up for DM, sign up for DM."
Now, registration has closed, and Ricardo has gone. I never registered, hoping his increasing desperation would make him stay. I should have known that it was only a matter of time. It's funny, I still find myself waking up in the night, sure that I hear him, whispering those words that make my heart soar. But it's never him. I look for him at the arch, but he's nowhere to be found.
Oh, sweet Ricardo, will I ever hear your voice again? Will we ever reunite? Am I doomed to spend the rest of eternity without you? Or must I sign up for Dance Marathon to see you again? I would do anything for you, Ricardo – except dance for 30 hours.