Local Woman Becomes Cartoon Character After Wearing Same Outfit for a Week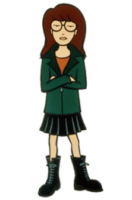 During finals week, Amy Schwartz, McCormick '21, began to feel that she wasn't functioning at full capacity. Due to her intensive extracurricular and study schedule, Schwartz had no time to do laundry or shower. After donning the same combination of sweatshirt and sweatpants for eight days, Schwartz realized she was turning into a literal cartoon character.
"I thought that only animated characters wear the same outfit every day," claims Schwartz's friend Penelope Dunlap, "but Schwartz's sweatshirt is practically glued to her skin. I don't think she could take it off even if she wanted to. So, it makes sense that she is transforming into a 2D person."
The issue soon became worse when Schwartz entered a process of pixilation. "As you can see, my skin is beginning to morph into giant blocks," states Schwartz, "My hair is so stiff now that I can't move it – and that's not just because I haven't washed it in a week."
Schwartz claims her greatest fear is that her brain will pixelate into a single brain cell. However, after seeking medical advice at Searle, Schwartz received little help. "The doctor told me to try showering in Mudd," recounted Schwartz, "but all of the showers are full of crying freshman."
One friend of Schwartz finds the situation promising. "I always said that Schwartz should act in one of my films," said Melanie Lutz, RTVF '22, "If she turns into a cartoon character, well, that's less work for me on my animation final."
Schwartz's mother said that she is supportive of Schwartz's transition onto the 2D plane so long as she promises to call more.