College Students Replace Coming Out with Declaring Gender & Sexuality Studies Major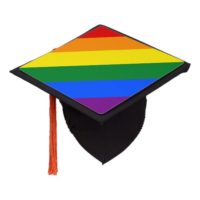 Many Northwestern students face immense fear regarding announcing their sexuality to their friends and family. Not only is coming out scary, but it is also a constant progress – people have to come out over and over again. To alleviate the stress of actually coming out of the closet, students have found that they can simply declare a gender and sexuality studies major and everyone will just assume they are queer.
Freshman Patricia Cohen declared her gender and sexuality studies major partway through fall quarter. "Originally I was undecided," claimed Cohen, "but after my parents thought that I meant 'happy' when I told them I was gay, I knew that I needed to take drastic measures to communicate my sexuality. So I charged my US Gay & Lesbian History textbooks to my family's Amazon account."
Sophomore Harry Odenkirk added, "trying to figure out how to announce my sexuality to everyone I met at Wildcat Welcome was exhausting. It was much easier to tell them I was SUPER excited for my Queer Modernism class."
"Being able to say that I am a gender & sexuality studies major was the solution I needed," claimed Jennie Kim, "the amount of men asking me out in my CS classes drastically decreased after I declared my double major."
While the gender and sexuality studies department welcomes people of all sexualities to their program, they acknowledge that declaring their major will prevent people from assuming you are straight from the get-go. In an official statement the department announced, "we welcome everyone to our program. If you are not ready to come out, we also have a minor."
Recently, inspired by Allison Bechdel, freshman Allie Jones declared a "Joan" major; however, Northhwestern is yet to start a Joan program or hire any professors in this field.