BrewBike Declared Nonessential Business During Pandemic, But Also Just in General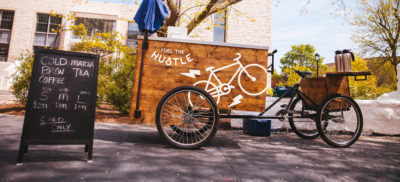 In an attempt to stop the spread of the novel coronavirus and not-so-novel startup ideas, the CDC expanded its list of nonessential businesses to include BrewBike. "We are requiring BrewBike to close its stores in Evanston immediately because it is not essential now nor has it ever been essential," announced Dr. Anthony Fauci at a White House briefing yesterday.
When asked about the other three locations, Fauci responded, "What? They expanded to other college campuses too? Jeez, what's the appeal? It's coffee on a goddamn bicycle!" In a later statement, he clarified, "I mean, they should close for safety reasons too."
Reactions to BrewBike's closure have been met with mixed reactions on campus, ranging from "okay, sure" to "meh." Students who now have no choice now but to forego drinking cold brew in freezing weather have reflected on the new change. "Before the pandemic, I used to think, 'BrewBike sucks, who needs it,'" said Samantha Liu, WCAS '21. "But now that I can't take it for granted, my opinion remains the same."
An anonymous barista wishing to offer some more insight into the "nonessential" label explained, "12 ounces and lukewarm. That is both a description of our beverages and the enthusiasm that people have for our beverages."
Sources report that the company's CEO and board of directors are hoping for an economic bailout from their parents, but the future of the business remains in question. The entire campus will wait with fingers uncrossed; until then, nobody cares.