Local Man Poses as Cardboard Cutout for Three Months to Infiltrate World Series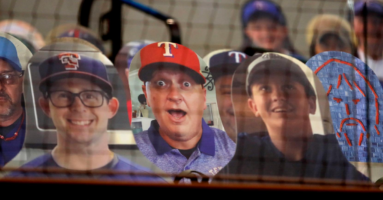 A man was arrested today at Globe Life Field in Arlington, Texas after posing as a cardboard cutout for three months to infiltrate the 2020 World Series game. The home of Major League Baseball's Texas Rangers and the neutral site of the sport's championship game is on lockdown following the incident.
José Bregman, 34, had been present in the stands since the MLB regular season began three months ago. Following the news that baseball would resume without fans in attendance, many stadiums chose to add cardboard versions of their fans to add color and regularity to the television broadcast. So, José embodied the cardboard.
"The trick is to sit real still and not breathe too much," describes Bregman, who claims he wanted to get the authentic ballpark experience without the hassle of paying for tickets or obeying pesky federal guidelines. "I got used to not breathing when I pretended to be dead so my kids could claim life insurance," he said.
Bregman's trespassing incident is the latest in a string of similar events across various MLB stadiums, including a rogue fan heckling a Red Sox game in the outfield, as well as a marauder entering the Brewers' Miller Park and hijacking a small bulldozer used by the grounds crew.
Due to the increased invasions, as tensions amongst fans grow during baseball's postseason, MLB's chief of security and safety Carlos Cora says they are increasing protective measures. "We decided to put signs in certain areas that warn potential intruders of the consequences of their actions," details Cora, who has headed MLB security for fifteen years. "Hopefully, these signs will be not only a deterrent, but also prevent future trespassing. There is no way a perp can get past these notices. Not possible."
"I walked right in there," challenges Bregman. "In fact, a security guard handed me a souvenir towel when I went in. I think they even opened the gate for me so I wouldn't rip my pants climbing over the top again."
The MLB has decided not to punish Bregman for his actions, instead mandating that he can't pose as a carboard cutout for at least one more year.