New Report: It's Still Unclear What People On Cover of Spanish Textbook Pointing At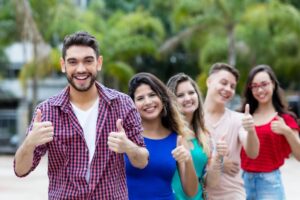 For the past 18 years, teens María Hernandez, José Sanchez, and Carlos Gonzalez, famous for their appearance on the cover of Spanish textbook Vamonos, have stood on the streets of Quito, Ecuador, pointing gleefully into the distance. Their bizarre activity has puzzled the world's leading scientists for years, as well as caused major traffic issues for the city. Their new study reported inconclusive results: it is still unclear what the three teens pictured in the textbook are pointing at.
When asked why the teens had been smiling and pointing into the distance excitedly for so long, Hernandez, Sanchez, and Gonzalez were unable to answer definitively. Instead, they responded with a series of remarks that referenced technology from the 90s and pop superstar Enrique Iglesias, a figure whom, with all due respect, nobody has thought about since 2014. Scientists also reported that the teens frequently halted the conversation to conjugate irregular verbs and instruct annoyed passerby how to properly use indirect object pronouns.
The teens were similarly unable to provide any personal information to the researchers. However, their appearance has led researchers to conclude that they enjoy bold hats, popped collars, and slinging their backpacks over one shoulder.
In light of these inconclusive findings, scientists have suspended all upcoming investigations as to what makes people on French textbooks chuckle to themselves beneath the Eiffel Tower.