Freshman Theatre Major Who Just Joined Flipside Adds "Journalism" to Resume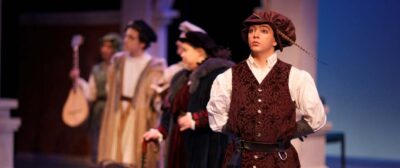 As the modern theatre landscape changes, current students of the craft are finding they need more and more special talents to stand out from the crowd. Or at least, they need to find specific skills that they can claim to be proficient in, and pray no one ever asks for proof.
Freshman theatre major, Sylvester Stage, has made the bold move of adding "journalism" to the list of special skills on his resume, despite this being his first quarter in Flipside. Stage has allegedly written over 50 headlines, which one Flipside editor has described as, "just ok."
When asked why he claimed to be a journalist, Stage responded, "First I had to learn how to rap when Hamilton opened. Now who knows what the next big thing will be!"
Stage admitted he only joined this club because he thought it was an a cappella group, but he is still learning valuable lessons that, for some reason, he is sure will help him get cast.
After taking French 101 and attending an information session for a Spoken Word group, "journalism" now sits in his special skills section right next to "fluent in French," and "slam poetry."
At press time, Stage was seen in the north mid quad handing out copies of this article along with his headshot and the draft of his original journalism-based musical.