Professor Who Talks about Bridgerton in Class Has Not Gotten to the "Wildest Dreams" Sex Scene Yet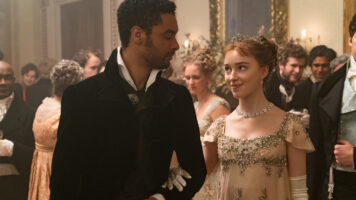 Due to a longing for escapism and a collective horniness that has plagued our society, Bridgerton has become a cultural phenomenon. Over 82 million households have streamed the Shonda Rhimes regency drama, which, unfortunately for you, includes your professors.
"Bridgerton has come up in all of my classes at least once this quarter," said freshman Eleanor Bennett, who claims to have binged the show in a mere three days. "I get that my professors want to talk about the series. But have they watched the episode where the Duke and Duchess have sex repeatedly to a violin arrangement of a Taylor Swift song?"
After a short survey conducted by Flipside, the answer is unfortunate: no, professors have not yet witnessed Daphne Bridgerton being pleasured by the Duke of Hastings in the library, the garden, the bedroom, and every other room one could name.
"Yeah, maybe the themes in Romeo and Juliet connect to the show, but when did Romeo and Juliet get nasty to a harpsichord version of 'Shake it Off?'" lamented Bennett.
Bennett can only cringe in embarrassment knowing that while her professor loves Daphne's character arc in the first few episodes, she will soon watch the protagonist cum in two minutes with zero foreplay.
Only time will tell if professors will continue proclaiming their love for Bridgerton even after witnessing the raw sexuality that drew their students to the show. One thing is for sure: your professor will know you watched what happened on that ladder, and she'll know you loved every second of it.