Mini Humidifier Working Hard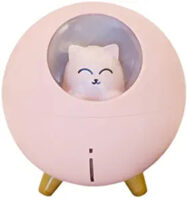 Adorable! In an effort to hold back the metaphorical ocean with the metaphorical broom, Medill first-year Allie Ranch recently invested in a mini humidifier.
"My skin has been, like, super dry since I came up here for winter quarter," explained Ranch. "My face is flakier than Northwestern's male population, and my knees and elbows are so cracked that James Franco could get trapped down there for 127 hours. So I decided to finally do something about it, and I got this humidifier. I run it constantly."
The humidifier in question, a confusingly-shaped horned pink pod, features two mist settings and a little window where a figurine of a dog stares out with lifeless plastic eyes. Clocking in at about 5.5 inches tall, it is definitely not circulating that mist well.
"The tank is only 300 mililiters, so I have to refill it a lot. Also, it's starting to get kind of crusty, so I should probably clean it soon. But every little bit helps, right?" asked Ranch, smearing Aquaphor all over her crusty, dry corpse.
The dog trapped within the humidifier could not be reached for comment, although, when we listened closely, we heard something about needing to unionize.