Housing Finds 700 Students Partying in Bobb. Later Realizes Many "Students" Were Just Large Rats From The Basement's Super Colony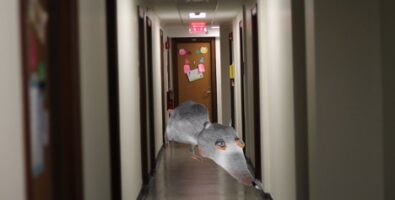 Bobb is held in high regard as one of the cleanest and neatest dorms on all of North campus, but that reputation is in danger after a giant rat colony was discovered late last night.
First-year Michael Yup, was searching for his missing roommate when he stumbled upon the nest. "I saw one of the rats wearing my roommate's watch", Yup said before looking over his shoulders and whispering, "I think they ate Greg". While saddened by the loss, Yup is pleased with his new dingle, "so really, it was for the best."
Jillian Brown of the Institute of Rat Science explained that the mix of obnoxiously loud roommates and the "black mold that is slowly killing the residents" has made a perfect chemical cocktail, similar to the primordial soup which first berthed life on earth. The colony's leader, Ratspierre, presented a different perspective: "We came because us rats really admire how well Bobb freshman are able to spread infectious disease" in an exclusive interview.
While others are on the fence, some residents of Bobb are welcoming the new faces. "The rats are actually all great!" said one resident wearing a suspiciously tall chef's hat. "Help me…please…" she pleaded, smiling.
Instead of trying to curb the infestation, Northwestern's Residential Services is embracing the newcomers. "If you can't beat them, take their money" said the Housing director in an internal memo. To cater to the new occupants, Bobb will be reclassified to the Rodent Residential College (RCR) with a strict no-cat policy. Upcoming programming includes Rock-paw-scissors, pin the tail on the rat-king, and 'Rat-respective: navigating relationships and mouse traps.' Update: Bobb has since been deemed "unfit for human living conditions" by the City of Evanston, deemed "just right for incoming freshman" by NU housing.