Tragic! Sophomore Forgets Classes Are in Person, Whips Out Dick in Discussion.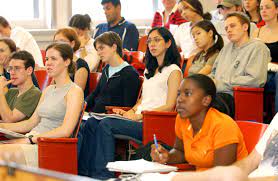 Gasps, screams, and one orgasmic moan filled the hallways of Kresge Hall after sophomore Richard Harding pulled out his erect phallus in Thursday morning's poetry 101 discussion.
Harding spoke with (and sexually propositioned) Flipside reporters before being led away, saying "I'd been doing it for months at home with no consequences. I figured that because teachers had cracked down on online cheating but said nothing about nudity it was allowed." Harding continued "I had my penis out in class all the time last year It just so happens that they saw it this time. Big deal" (Harding noted that the last bit referred to his genitalia and not the broader incident).
Classmate Sofia Johnson gave an eyewitness statement while recuperating from the traumatic experience with a Frappuccino: "We were going over Come Slowly – Eden by Dickinson, when suddenly Richard pulled it out and came fast. After that all hell broke loose. People were jumping over one another and diving under chairs to get out of the class. I couldn't get away in time. Harding walked over to me and offered me a Starbucks gift card in exchange for a my number before being tackled by police.
Professor Scott Sterling assured journalists that he had taken detailed photos of Harding's nudity so he could develop a more hands-on response to the incident should it happen again in the future.