Thanks to Donation from Ryan Family, NU Football Can Lose in a More Expensive Stadium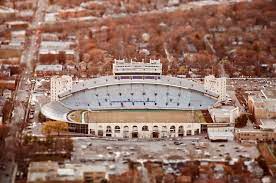 Northwestern's very own Ryan family recently made a generous $480 million donation so the prestigious football program can get beat by the sons of midwestern corn farmers in an even more expensive and elaborate stadium.
Following their October 2 game against the University of Nebraska Cornhuskers, the team knew something needed to change. "It was completely and utterly embarrassing," said fifth-string running back Chadley Braddington. "Their stadium looked so much more expensive than ours."
Nebraska's Memorial Stadium isn't their most intimidating opponent, however. According to a source that is definitely not CNN, the University of Minnesota spent $338 million constructing a new stadium in 2009, and another Big 10 competitor U Michigan even boasts the largest college football stadium in the country – seating a whopping 107,601 people.
"If we're going to stand a chance against Minnesota and Michigan, we're going to have to spend more on our stadium," said defensive lineman Hugo Bigman. Bigman even pawned his prized moped so the money could go towards the renovation of Ryan field. "It's hard having to actually walk around our relatively small campus, but it's a team effort to be able to lose in a needlessly fancier stadium," Bigman added.
Even the students agree that the renovation plans are completely pointless entirely necessary and an egregious waste of funds that could better be spent elsewhere and a smart long-term investment. "As a fan, I'd be much more likely to come out and support the team if they made the seats more comfortable," said very real freshman Alex Common. "Since my rocking dorm chair gives me back pain, Ryan Field would be a nice place to sit, crack my back, pretend like our team isn't garbage this year."
When asked where the remainder of the donation was going, President Morton Shapiro replied, "What do you mean? With all the protests and strikes occurring on campus, our top priority is uniting everyone with football." The Ryan family is also interested in funding other top priority projects such as a swimming pool in the presidential house and a new litter box for Willie.