Review: Dune (2021) Not At All Like Ladybird (2017)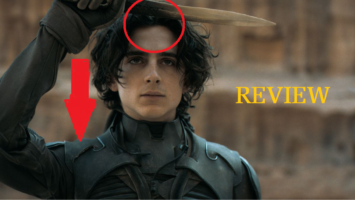 Okay, I have recently been told that to "review" a film, one must have actually seen the films they are reviewing, and that it is "bad journalistic practices" to not have done so. However, let me make my case: I am lazy. Too lazy to sit through two and a half hours of a guy named Paul walking through sand. If you aren't and actually sat through Denis Villeneuve's Dune, good for you. You're so much better than this humble reviewer whose only source is currently a couple of trailers and a Wikipedia article.
But I have totally seen Greta Gerwig's Ladybird, albeit I was half asleep for most of it and that was about two years ago. This, I think, is enough to eke out a comparative review of both films, as both films star (feature? cast?) Hollywood superstar and guy your SO was crazy about in 2019 Timotheé Chalamet.
Chalamet, who has also played the teen lover of a cannibal in Call Me By Your Name, may be in both movies, but he plays very different characters in each or at least I think he does. In Dune, he is Paul, a man who speaks solely in voiceovers and walks across, you guessed it, dunes. In Ladybird, Timotheé plays that one guy that's just in it so they can use his face and name for marketing but only really has about six minutes of screentime.
The characters Timotheé Chalamet plays are not the only different things I noticed. There are actually almost no similarities besides the presence of the Chalamet. For example, one film takes place in a decrepit, hot wasteland and the other is Dune (suck it, Sacramento!). Also, I'm now seeing that Dune has THE Jason Momoa in it? Ladybird definitely didn't have him. Maybe I should see Dune after all. I loved Momoa in Aquaman, unlike many of my simpleminded contemporaries. Now that's a movie I could write for days about. Maybe that'll be my next movie review. I can call it "Aquaman Review: A Movie I Have Actually Seen." Yeah, that'll kill online. Ultimately, I will give both films as many stars as you want to give them, but I will also give Dune n+1 of the stars you give Ladybird due to Villeneuve's masterful decision to cast the sea's savior, Aquaman. Now, was either film actually any good? Was one better than the other? I'm not sure. To truly understand that question, one must consider what it means for a film to be good. I'm working towards a creative writing degree, not a philosophy degree or a film degree. I actually don't know much about film at all. How'd I even get this job in the first place?