Desperate Black Friday Shoppers Pry Clothes from Sweatshop Children's Small Little Fingers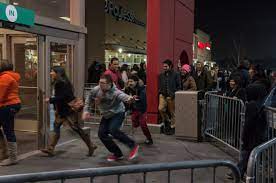 In a sale-induced frenzy, feral Black Friday shoppers broke into sweatshops factories across China to get BOGO deals with a bonus gift directly from the workers.
69 sweatshop workers, of which 68 were lazy, slacking children, were reportedly trampled, maimed, or otherwise injured during the event. According to eyewitnesses, many shoppers tore finished items directly out of employees' hands, even going as far to swing certain items around in circles in order to displace the more resilient workers.
"I can't believe what a great deal I got!" said shopper Effie Trinket. "I got two purses with a buy one, get one 5% off deal, and all it took was some minor barking."
Other shoppers weren't as pleased. "If those pansy snowflakes kept up with demand, we wouldn't have to come all the way here to get the deals," said shopper Richie White. "How dare they not treat me like I'm the center of the universe. Of course everything revolves around me!"
In a public statement on Twitter, a Walmart-H&M-UrbanOutfitters-Forever21-Champion-Nike factory owner said, "The customer is always right. In pursuit of maximizing profits customer satisfaction, we eliminated the tedious shipping and waiting, allowing our product to go directly to the customers from the sewing machines."
The brand also assured the public that the injured employees would be compensated with a coupon for a five-dollar footlong from Subway and some morphine.