Elmo Escalates Feud by Declaring War on Dwayne "The Rock" Johnson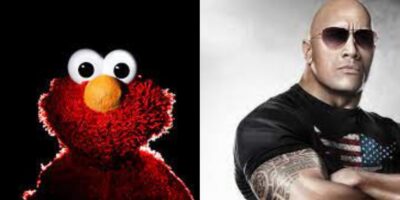 After a recent tweet in which Elmo asked "Has anybody ever seen a rock eat a cookie? Elmo is just curious." generated controversy, Johnson decided to step into the ring with the furry three-and-a-half-year-old, saying that he'll be "coming to Sesame Street to kick ass and eat cookies, and he's all out of cookies". While roughly a week of radio silence from Elmo followed, a signed declaration of war from Elmo and his companions — including Cookie Monster, Grover, Big Bird, and Rocco itself — was posted to a bulletin board at the end of Sesame Street just this week. The full text reads as follows:
Hi there Mr. The Rock! Elmo was talking with his friends, and Elmo didn't think it was very nice of you to swear and threaten Cookie Monster. Elmo thinks that what goes down on Sesame Street stays on Sesame Street. In fact, Elmo and his friends think that outside interference in the internal, political affairs of Sesame Street is a sign of hostility that Elmo simply can't afford to ignore. Cookie Monster publicly accepted your challenge, but just know that Elmo will be right there to back him up with that draco and a heart of steel. You think Elmo hasn't capped a bitch before? Elmo stays strapped. Being a celebrity won't save you, Mr. The Rock, so keep your ears open and your eyes peeled — Elmo's got a vengeance and a fistful of bullets with your name on them.
Elmo, who seems to have gone off the grid, did not respond to The Flipside's request for comment.